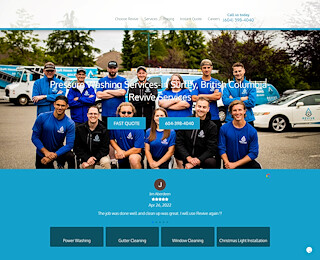 5 Tips To Get The Best House Washing Service In Surrey
Once in a while, houses or sections will require washing for one reason or the other. Be it to maintain the beauty of the house or to preserve the monetary value, house washing is very important for home owners.
The truth however is that house washing is no easy task at all, with homes getting bigger and bigger and more fittings being installed just about every day; another reason why it is so difficult is the need to protect the house from damages that may occur during the cleaning process.
While a number of people may be comfortable DIYing the cleaning process, others just cannot afford to attempt that. People in this category usually employ a house washing service.
There are many outlets that offer house washing in Surrey, and the abundance of choice can make it quite difficult to choose one. This guide has been put together to help home owners choose the best washing service for their buildings. Here are some things to look out for while employing the services of one of them
1) Experience
Outlets that have been around the longest should be the first port of call when the need arises for house washing in Surrey. Since they have been around for so long, they have the requisite experience to do the work better than newbies who might turn clients houses to training grounds. Although experience alone is not enough.
2) Equipment Level
Clients should always look for cleaning services with the best equipment and tools for the job. Allowing the usage of obsolete tools and cleaning methods is not just a panacea for shoddy results but can also be dangerous to the home and it's fittings.
3) Reviews
Prospective clients need to pay attention to what previous customers have to say about their experience with house washing outlets in Surrey and everywhere else really. They should also keep tabs on how the company reacts to these comments (especially the occasional bad ones). This will determine if it was a one-off or if there's a pattern there.
Asking friends who have had an impressive house washing done for referrals is an avenue to getting great service and can also reduce the cost of house washing in Surrey.
4) Special Offers
When a cleaning service offers special terms like a promise to replace any possibly damaged parts of the property, then it is best to take them up on the offer. It's like having insurance.
5) Greenness
This implies that the most eco-friendly outlets are more preferable to others. It is more ethical to employ cleaning services that are committed to earth friendly practices like reusing waste water, etc. As a rule of thumb, if they are interested in protecting the earth, how much more their clients' interests and property.
In conclusion just one or two of these factors will not be enough to judge the best house washing services in Surrey, but it is best to combine them all and narrow down the choices gradually to arrive at the right choice.
Call (604) 398-4040 for your Surrey house washing quote today!
House Washing Surrey