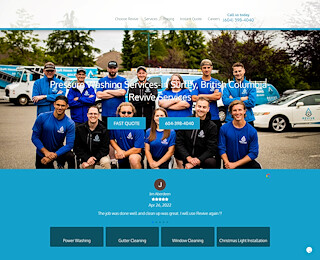 Why Our Clients Choose Us For Quality Pressure Washing in Surrey
At Revive Washing, we offer numerous reasons to trust us with your home's exterior, whether it's through our premium window washing services or by allowing us to maintain your walkways and outdoor surfaces with our reliable pressure washing for Surrey homes and businesses. We hear all kinds of stories from our customers who tell us they have broken shingles off of their homes or caused damage to their drive or walkway through inexperience in using a pressure washer. You can trust our team of experts when it comes to removing mildew, mold, algae, dirt, and grime around the outside of your home.
Power washing your home's walkways, patios, driveways, sidewalks and decks may seem like a waste fo time, but reports show that keeping these areas clean through pressure washing can actually prolong the lifespan of the materials. We use biodegradable cleaners that are never harsh on these surfaces and are designed to remove chemicals and residue, along with all types of growth that can occur on exterior surfaces. The right cleaning agents combined with the proper cleaning techniques will ensure great results. Our unique 'whirl way' cleaner ensures a streak-free finish you'll love.
If your siding is not brittle and can handle a bit of pressure from washing, our crew will do a professional job of cleaning the exterior of your home. If you have a stucco or cedar sided home, you'll find our pressure washing for Surrey homes to be an exceptional value, and one that will restore your home's original beauty. All of our techs are expertly trained to perform pressure washing on your home or exterior surfaces. You're going to find hiring us to be an affordable alternative to renting or purchasing the equipment and accessories necessary to doing the job yourself, and our experience will guarantee satisfactory results. Call us for pro pressure washing in Surrey for the following benefits:
Improve the value of your home. Real estate experts agree that a complete pressure washing along with a few paint touch-ups can increase the value of a home by as much as 5%!
Many homeowners are unaware that the buildup of algae and grime can actually break down a home's exterior materials. Pressure washing prior to painting will help the pain last longer, too.
Give your home a new curb appeal with an annual pressure washing that reveals your home's best features.
Pressure washing is not just for your home's siding- it also does a terrific job on cleaning garage doors, fencing, outdoor grills, decorative signs, swimming pools, outdoor furniture, patios & decks, and driveways & walkways. Give us a call at Revive Washing to discuss your needs and we'll provide you with an instant quote.
Call our office at 604-398-4040 for affordable pressure washing in Surrey and its surrounds. Our clients are part of our family, and we guarantee your 100% satisfaction with the work we provide.
Pressure Washing Surrey